Annual Outreach Mission Brings Smiles to Jamaican Faces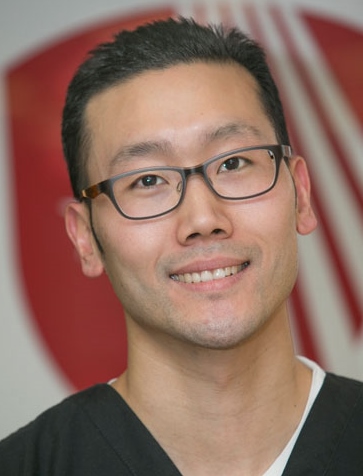 January 2015 - The island of Jamaica is a popular vacation spot, and with its sparkling turquoise waters, balmy climate and lush greenery, it's easy to understand why. Dr. Albert Yoo, a clinical assistant professor in the School of Dental Medicine's (SDM) Department of Periodontics and Implantology, is well acquainted with the allure of this Caribbean nation as he has gone there every year for the past five years. His reason for traveling to Jamaica, however, has nothing to do with leisure.
His destination is Buff Bay, a small seaside community on Jamaica's northeast coast, where despite a thriving agro-tourism industry, the income of most residents falls below the poverty line, according to a study commissioned by the Caribbean Natural Resources Institute in collaboration with the Jamaica Forestry Department. In fact, many Buff Bay residents can't afford or lack access to even the most basic oral healthcare, but that's beginning to change since Dr. Yoo began making annual trips there.
Since 2010 he has traveled to Buff Bay to treat the local population. Last year for the first time he led a team of faculty, students and staff on a weeklong mission. This past January he returned with a 13-person team that included four licensed periodontists, eight third- and fourth-year dental students, and a certified dental assistant. Dr. Yoo supervised the clinical operation and team, which worked out of a local community clinic and provided care to 411 patients, most of whom underwent cleanings, extractions, gum surgery and alveoplasty.
The SDM sponsors similar trips to varied locations around the world, such as Madagascar, Chile and Kenya, and to remote or underserved areas within the United States, such as in South Dakota, Virginia and Tennessee. Now it has added Jamaica to its permanent roster.
Dr. Yoo first learned about Buff Bay from his mother, Dr. Hwasun Lee, a physician who for more than 10 years had been making trips there to perform physicals and eye exams, screen for hypertension and diabetes, and distribute medication, most of which is donated or paid for out of her own pocket. It was over a cup of coffee in September 2009 that she first suggested to her son that he work alongside her. Dr. Yoo went on his first trip in February 2010 and has been going back every year since.
For many people within the community and immediate surrounding towns, my mother is the only physician they will see for the entire year," said Dr. Yoo. "Likewise for dental — our yearly mission is the only time when people will be able to have treatment, so I believe it's very important not to mission-hop from one location to another. It's when you make the return visit that people realize that you are really there to help and that you have a heart for their community."
As the mission organizer, Dr. Yoo raises funds from friends, family and colleagues to help defray the cost of the trip, which is estimated at $850 per student and includes transportation and room and board for one week.
Troy Lam '14, who was one of the dental students who participated in last year's outreach mission, said he found the experience to be life altering.
"I was really touched by the young children that followed us everywhere we went," he said. "It was very moving to see how much of an impact we had on their lives in such a short amount of time and how much they looked up to us."
Lam, who assisted with examinations, oral hygiene instruction, cleanings and tooth extractions, said the best part of the trip was seeing patients line up every morning as they awaited treatment.
"I was not sure how we would be accepted by the people of Buff Bay, especially considering how young we were in our dental careers," he said. "But each and every patient there displayed extreme kindness toward us and welcomed us with open arms."
Dr. Yoo said the trip to Jamaica is a great way for dental students to embrace volunteerism. "Their teamwork, incredible work ethic, positive attitude, willingness to learn, progress in the clinic, skill and confidence — coupled with the professionalism and sincerity they show each patient — are a great encouragement. Our mission has truly grown into something great."
Lam agreed. "Outreach missions make us reflect and truly appreciate the things that we often take for granted."