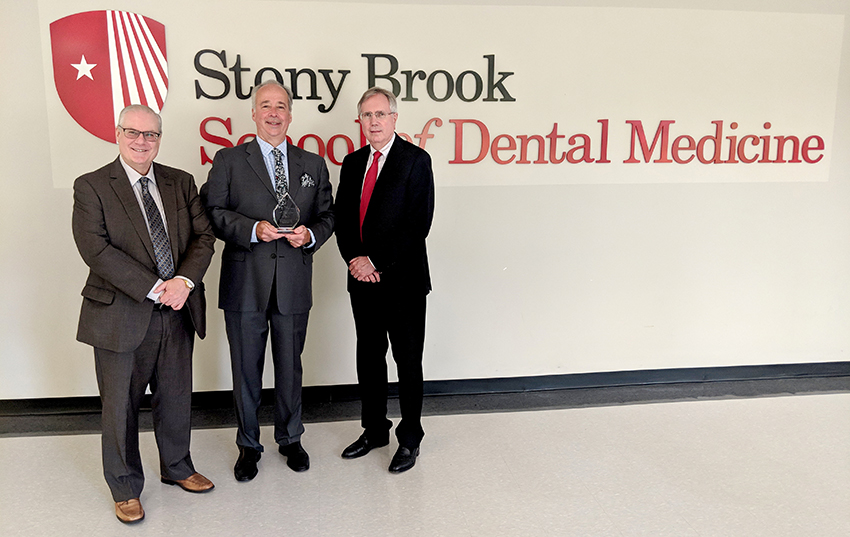 Stony Brook School of Dental Medicine recently recognized Dr. Kenneth Kurtz, clinical professor of prosthodontics and director of the Division of Maxillofacial Prosthetics, with the 2022 Sreebny Lectureship Award. Kurtz was recognized for his contribution to the school's Annual Research Day as the keynote speaker for his presentation, "Dental Implant Intervention for Syndromic & Non-Syndromic Childhood Partial Edentulism." 
He is the first prosthodontic recipient of the Sreebny Award, which was presented to him by Dr. Stephen Walker, associate dean for research, and SDM Dean Patrick Lloyd, a fellow and past president of the American College of Prosthodontists, and past editor of the Journal of Prosthodontics. 
"I am a huge supporter of dental research, and when walking amongst the Sreebny Day student poster presenters, I am always impressed by the wide expanse of dental research at the SDM," Kurtz said. "Mentoring prosthodontic residents during their time here should have an academic research component as the benefit to the researcher and their mentor is incalculable with regards to advancing the specialty."
The Sreebny Lectureship Award was established by Dr. Leo Sreebny and his wife, Mickey. An icon within the SDM, Dr. Sreebny served as dean of the school from 1975-79, as well as a professor in the Department of Oral Biology and Pathology through his retirement in 2005. Dr. Sreebny was also an advocate for dental research, establishing and supporting the annual Leo and Mickey Sreebny Lectureship and Stony Brook School of Dental Medicine Research Symposium.
He also authored numerous academic articles and papers and co-edited the 2010 book, "Dry Mouth, The Malevolent Symptom: A Clinical Guide". Throughout his tenure at Stony Brook, Sreebny advocated for research and innovation, encouraging SDM students and faculty to seek out research opportunities to further oral healthcare.