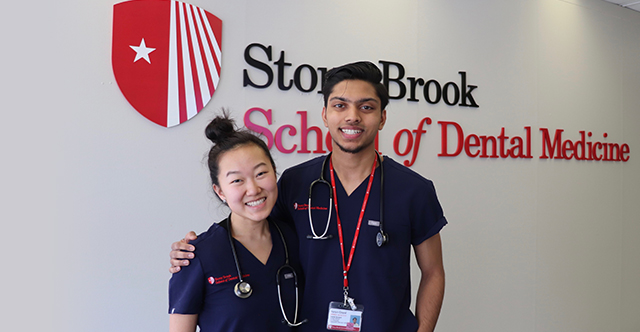 IMPORTANT PATIENT NOTICE on the Coronavirus (COVID-19)

Welcome to the Dental Care Center, the teaching clinic of Stony Brook School of Dental Medicine. Within our state-of-the-art facility, quality, affordable care is provided by well-trained students and post-graduate residents under the guidance of experienced faculty members. 
Learn more about our mission, vision, and core values.
We are proud to serve as the largest provider of oral health care services on Long Island, offering modest fees, participating in multiple insurance programs, and offering all dental specialties in one location. We are dedicated to delivering comprehensive, patient-centered care in a comfortable, friendly, and professional environment.  
Stony Brook School of Dental Medicine is a national leader in the advancement of dental medicine, directly benefitting you, our patient. We are consistently an early adaptor in the use of digital dentistry technologies in research and treatment, and our established role within academia has put us at the forefront of meaningful translational research resulting in transformative solutions and products in oral health care. 
We welcome you to become a patient and to contact us should you have any questions. 
WHAT OUR PATIENTS ARE SAYING
"Love my student dentist. Totally confident in the young dentists & professors who are guiding them. Recommend highly for good, caring treatment."
- ELIZABETH 
"All of the residents are amazing with my Children … patient and kind! I have been taking my son since he was 2 years old, every 6 months for 6 years! And my daughter as well. Thank you for being so great!" 
-STEFANIE
"I have been going there for almost a year now. I think the place is great. Everyone there tried to be really nice given that the job could be stressful. I have a very complicated case with them and I think that they are handling everything the right way. I have been to other dental places and they were all time wasted. With them they make sure that everything is done thoroughly. I would recommend them to anyone who's looking to get anything done in regards to dental care!"
-MIRLINE