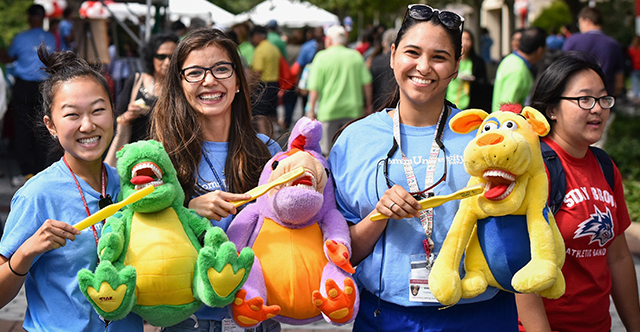 As Long Island's largest provider of oral health services, we have made it an integral part of our mission to expand access to oral health education and treatment throughout our local communities. Through offering and participating in events like Give Kids A Smile® within our Dental Care Center and CommUniversity Day on campus, we aim to continue to break down barriers to care for underserved population in Nassau and Suffolk Counties.
Give Kids A Smile® Events 
Give Kids A Smile is a program of the American Dental Association Foundation® held to provide free oral health care services to underserved children. Since its inception, Give Kids A Smile events have helped over 5.5 million children nationally. Stony Brook School of Dental Medicine participates in three Give Kids A Smile events each year, attending two in nearby communities, and hosting its own back-to-school event in August.
 
Stony Brook School of Dental Medicine's August event typically brings over 200 children from the local community to its Dental Care Center. Children are provided with free dental cleanings, screenings, sealants, and fluoride treatments before beginning the new school year. Children requiring urgent treatment are provided immediate care by our Pediatric Dental Residents. Additionally, children are educated on the best oral hygiene practices and receive oral hygiene kits to help them to put their best smiles forward in their new classes. 
Our faculty, students, and residents also collaborate with the Nassau County and Suffolk County Dental Societies to support events in February at the Cradle of Aviation and Long Island Aquarium, respectively. By utilizing their clinical skills, they are able to bring free oral health services to over 1,500 children combined. 
PACE Center for Health and Wellness

Please note that PACE appointments are scheduled between September and April. 

The Partnership to Advance Collaborative Education (PACE) is an interprofessional wellness center located within our Dental Care Center that focuses on meeting the health promotion and disease prevention needs of adults on Long Island. The PACE team includes students and professionals from Stony Brook University Schools of Dental Medicine, Nursing, and Social Welfare.   
The PACE Center was initiated by a $1.4 million HRSA grant and this funding allowed for the development of the program. A patient visit to The PACE Center provides comprehensive health screenings for patients including blood pressure and cholesterol screenings, HbA1c testing for diabetes risk, falls risk assessment, home safety assessment, hearing and vision screening, oral health exam, screening for sleep apnea, health risk assessment, and caregiver support assessment. Based upon screening results, participants receive a personalized plan of care and a community-based resource guide with recommendations for follow up and referrals to available resources.
CommUniversity Day
Arising out of the campus Plan for Equity, Inclusion, and Diversity, CommUniversity Day showcases the many facets of Stony Brook University through inviting members of the broader community to visit interactive "neighborhoods." At each year's event, Stony Brook School of Dental Medicine provides free dental screenings and oral hygiene supplies to over 200 visitors. In addition, tours of the Mobile Dental Clinic, fun giveaways, and oral hygiene education are offered to attendees. 
Learn more about the upcoming CommUniversity Day.