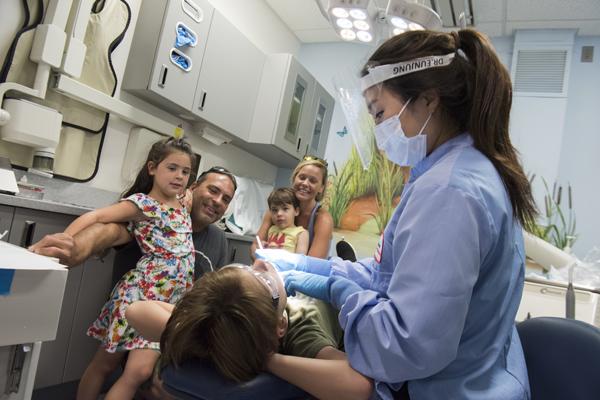 Welcome to the Dental Care Center, the teaching clinic of Stony Brook School of Dental Medicine. Our Dental Care Center features the latest in diagnostic techniques and preventive services, state-of-the-art digital dentistry, and every dental specialty in one location. We are proud to be the largest provider of oral health care services on Long Island. 
At the Dental Care Center, quality care is provided by dental students and residents under the guidance of licensed faculty dentists. Although the time to complete treatment is longer than within a private practice setting, the fees are typically significantly more affordable. 
To begin the process of becoming a patient of the Dental Care Center, please schedule your first appointment. 
How to Schedule Your First Appointment
To schedule your first appointment within our teaching clinic, please call the Dental Care Center between 8:30 am and 5:00 pm, Monday through Friday. 
Adult Patient Program: (631) 632-8989
Child (Under age 17) Patient Program: (631) 632-8967
Orthodontic Program: (631) 632-8906
How to Prepare for Your First Appointment 
To ensure your first visit to the Dental Care Center is as efficient as possible, please complete and bring with you forms from the Program Selection Appointment Packet. 
Please be sure to also bring with you: 
A valid form of government ID 
Your insurance card(s) 
A list of all of your medications
If you are the legal guardian or guarantor, please bring the legal documents with you at the time of the appointment.
What to Expect at Your First Appointment 
During your first appointment, your basic oral health status and treatment needs will be assessed by a faculty member. Here is what to expect: 
Upon arrival to the Dental Care Center, please check in with the main reception desk.
As the Dental Care Center is a teaching clinic, your visit may take up to three hours.
The first appointment is for pre-diagnostic services, which include a screening triage, head and neck examination, and oral cancer screening.
Radiographs (x-rays) may be taken as part of the examination process.
No additional treatment will be performed at the first appointment.
If your insurance plan does not cover this service there is a nominal fee for the appointment payable by cash or credit card. This payment is due at the time of the appointment.
Photographic images are required to be taken for all patients, including children, according to Fair and Accurate Credit Transaction Act 2003 §114, 315 and Federal Trade Commission's Identity Theft Prevention Red Flags Rule 16 CFR § 681.2. All non-religious headwear must be removed, e.g., hats.
There is a "no cell phone" policy, which prohibits video, photo, or other recording devices while at the Dental Care Center. Please respect the privacy of others.
 Acceptance as a Patient  
If your treatment needs are compatible with the teaching program, you will be accepted as a patient and assigned to a specific student or resident clinical program based upon the complexity of the care required.
As per Stony Brook School of Dental Medicine's Standards of Care, patients accepted for care in the Dental Care Center from their first appointment will receive a comprehensive examination within 90 days. If your needs are complex and/or your availability is limited, an assignment may be further delayed.
When you are assigned to a student/resident provider, you will be contacted by phone. It is best to make a note of your treating student/resident provider's name and phone number in case you have to contact them.
At your first appointment with your assigned dental resident/student, further diagnostic information will be obtained and a comprehensive treatment plan will be developed.
If your treatment needs are too complex for the teaching program, you will be referred for treatment to the Suffolk County Dental Society or to Stony Brook Dental Associates.  
Insurance Information
Provided below is a list of the dental plans that we participate with. It is important for you to check whether we participate in your specific plan. Please contact your plan to confirm our participation. 
Medicaid / Medicaid HMO Plans
| | |
| --- | --- |
| Dental Carrier | Dental Plan |
| New York State | Medicaid |
| Dentaquest | Affinity Health Plan |
| Dentaquest | Affinity Health – Child & Family Plus (CHP) |
| Dentaquest | Fidelis (Child Health Plus)  |
| Dentaquest | Fidelis Adult Medicaid |
| Dentaquest | Healthfirst Medicaid |
| Dentaquest | Healthfirst Family Health Plus |
| Dentaquest | Healthfirst (Child Health Plus) |
| Dentaquest | Emblem Health Plan (Child Health Plus) |
| United Health Care | Community Plan Medicaid |
| United Health Care | Community Plan Child Health Plus |
Private Dental Insurance Accepted
CSEA Employee Benefit Fund
Cigna PPO
Delta Dental PPO*
Emblem Health Preferred PPO**
* We do not participate with Delta Care USA. Delta has many dental plans; please check your card for the correct plan.
** This includes GHI and HIP (No HMO)