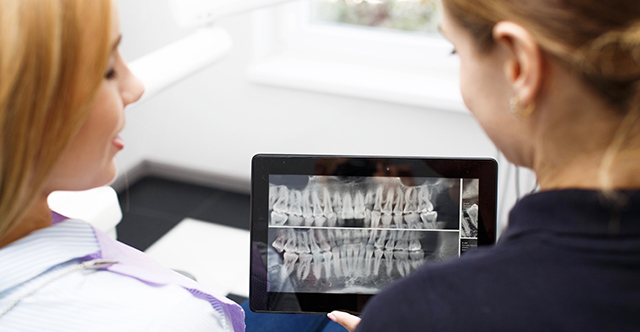 IMPORTANT PATIENT NOTICE on the Coronavirus (COVID-19)

The Dental Care Center proudly offers every dental specialty in one location, incorporating the latest technologies and materials in treatment. Our students and residents provide quality care under the guidance of nationally and internationally known faculty experts within their fields. 
Dental Anesthesiology (sedation)
The Division of Dental Anesthesiology provides anesthesia services for patients who have a dental phobia or are undergoing lengthy restorative dentistry, periodontal, and endodontic procedures. A full range of anesthetic services are available at the School of Dental Medicine, such as nitrous oxide, oral sedation, and intravenous (IV) conscious-sedation. Our goal is to manage your pain and anxiety in order to make sure your dental visit is pleasant.
Endodontics (root canal)
Endodontists specialize in the diagnosis of tooth pain and the performance of root canal treatment and other procedures relating to the interior of the tooth such as inflamed pulp or nerve of the tooth or disease in the area around the apex or tip of the tooth. 
Using surgical operating microscopes, rotary instrumentation and ultrasonics, Endodontists are able to clean out the diseased pulp or other filling materials in the root canal and disinfect the canal by a process of irrigation and instrumentation. Endodontists also perform periapical microsurgery on the root end of teeth which may become re-infected years after endodontic treatment was performed. 
Cutting-edge technology and techniques enable Endodontists within the Dental Care Center to perform regeneration procedures on immature diseased teeth, allowing the teeth to form completely and be retained in the mouth for years to come.
General Dentistry (comprehensive and routine dental care) 
General dentistry manages the overall healthcare needs of the oral cavity. The general dentist is considered the primary care provider and focuses on restoring oral health and prevention of oral disease. 
Treatment generally begins with a comprehensive examination, which may include dental x-rays and other helpful diagnostic tools, to diagnose decayed teeth, periodontal (gum) disease and other disorders or conditions that may be present. 
Once a diagnosis is completed, the appropriate procedures needed to restore oral health are determined. Such procedures may include cleanings, fillings, root canals, tooth extractions, crowns and bridges, implants, and/or denture services. More complex needs are referred to a dental specialist. Once restorative procedures are completed, the patient will receive preventative care, such as regular check-ups and dental cleanings to maintain sound oral health.
Oral and Maxillofacial Pathology (diseases of mouth, jaws, face) 
Oral and Maxillofacial Pathology is the specialty of dentistry concerning diseases of the mouth (oral cavity), jaws and face. It focuses on the diagnosis, treatment, and study of causes of diseases of the soft and hard tissues of these areas. 
Conditions diagnosed or treated by Oral and Maxillofacial Pathologists include dry mouth, burning mouth, canker sores, autoimmune conditions (e.g., lichen planus), viral infections (e.g., cold sores/fever blisters), fungal infections (e.g., thrush), and oral cancer. There is often an overlap with conditions of the skin, ear, nose, and throat, so Oral and Maxillofacial Pathologists work together with Dermatology and Head and Neck specialists.
Diagnosis requires a clinical examination and a detailed medical history. In cases where biopsy of soft or hard tissue, blood tests, CT scans, and other tests are necessary to arrive at a specific diagnosis, they are available through the Dental Care Center.  
Oral and Maxillofacial Radiology (diagnostic imaging) 
Oral and Maxillofacial Radiology is the specialty of dentistry concerned with production and interpretation of diagnostic imaging and data used for examining the craniofacial, dental and adjacent structures. Electronic access to cone-beam CT images, optical scanning data, and radiologic reports enables increased efficiency of digital dentistry procedures, including CAD/CAM workflows and surgical treatment planning.
Stony Brook School of Dental Medicine, a statewide leader in maxillofacial imaging, diagnosis, education and research, offers a complete range of dental imaging services provided under the supervision of a team of two board-certified maxillofacial radiologists. The state-of-the-art image storage and communication system within our Imaging Center supports seamless availability of diagnostic images and radiologic reports to all members of the dental care team – whether located onsite, or across New York State. 
Oral and Maxillofacial Surgery 
Oral and maxillofacial surgeons care for children and adult patients who experience such conditions as head and neck cancer, tumors and cysts of the jaws, cleft and craniofacial deformities, obstructive sleep apnea, misaligned jaws, accident victims suffering facial injuries, facial pain and temporal mandibular joint (TMJ) disorders, reconstructive and dental implant surgery, functional and esthetic conditions of the maxillofacial areas, and dental extractions including wisdom teeth and preparation for dentures.
Our oral and maxillofacial surgeons and residents have both surgical training and dental expertise. We serve patients through several locations including: Stony Brook School of Dental Medicine Dental Care Center, Stony Brook University Hospital, Stony Brook Children's Hospital, and the Stony Brook Cancer Center.
Orthodontics (braces)  
Orthodontics is the dental specialty concerned with correcting teeth and jaws that are improperly positioned. The orthodontic clinic within the Dental Care Center provides a full range of services for patients of all ages and uses the latest technology and techniques in orthodontic care. 
Treatment is available for patients requiring extensive oral rehabilitation and periodontal treatment, and for patients with craniofacial deformities including cleft palate, syndromes, genetic disorders, and conditions requiring orthognathic surgery. Faculty and residents of the Dental Care Center are active in the Cleft Palate-Craniofacial Center at Stony Brook University Hospital and in the Dentofacial Deformities program in conjunction with the Department of Oral and Maxillofacial Surgery. 
Pediatric Dentistry (dental care for children) 
Pediatric dentistry is the dental specialty focused on the provision of comprehensive oral healthcare to infants, children, and adolescents, as well as to individuals with special needs. Within Stony Brook School of Dental Medicine, compassionate, quality-oriented care is centered around health promotion and the prevention of oral disease. 
Pediatric dental care includes cleanings, radiographs, restorations, extractions, space maintenance and interceptive orthodontics, anxiolysis and oral hygiene instruction with prevention. Stony Brook School of Dental Medicine's pediatric dentistry residency program also provides moderate sedation and treatment of patients in the operating room under general anesthesia if treatment needs involve extensive treatment, behavioral and/or medical concerns. 
Periodontology (gums, supporting tissue)  
Periodontics is the specialty of dentistry that includes the prevention, diagnosis, and treatment of diseases of the supporting hard and soft tissues around the teeth and treatment of oral inflammation, the placement and maintenance of dental implants, and treatment of peri-implant diseases.
The post-doctoral periodontics clinic offers a wide range of non-surgical and surgical treatments of gingival (gum) and periodontal diseases, periodontal plastic surgery, the placement of dental implants, and the treatment of peri-implant diseases.
Prosthodontics (implants, crowns, bridges, dentures) 
Prosthodontics is a dental specialty relating to the diagnosis, treatment planning, rehabilitation, and maintenance of the oral function, comfort, appearance, and health of patients with clinical conditions associated with missing or deficient teeth and/or oral and maxillofacial tissues.
The Dental Care Center provides reconstructive dental care for severely damaged dentition, including but not limited to: dental implants, crowns, bridges, and dentures.  
Special Care for Phobic Patients and Patients with Disabilities 
Dental Care for Phobic Patients
Dental Phobia is a term used for those individuals who have avoided dental care due to extreme fear and anxiety towards the experience. Studies have shown that approximately 30 million Americans are affected by this troubling struggle.
The Dental Care Center at Stony Brook University Dental School in its General Practice Residency has developed a program for these special patients to help them overcome their dental phobia and more comfortably cope with the dental experience. Techniques such as relaxation behavioral therapy, caring individualized treatment approaches as well as mild sedation techniques with nitrous oxide (sweet air) or short term sedatives have been most effective based on the individual's needs. All fearful dental patients are welcome to visit the dental school's Dental Phobia Clinic for a complimentary consultation.
Dental Care for Patients with Disabilities 
The clinic for dental care for patients with disabilities provides comprehensive oral health services for those individuals with intellectual and developmental disabilities. Care begins with a comprehensive clinical evaluation to diagnose decayed teeth, periodontal (gum) disease and other disorders or conditions, determining the patient's overall oral health needs. Dental specialty care is available for more complex needs. Dental care can be delivered in an office type setting or hospital setting with general anesthesia, depending on the patient's ability to accept care. Patients are treated with sensitivity and dignity, providing them the respect they deserve.
Emergency Care
Free Health Screenings for Older Adults (PACE Center)